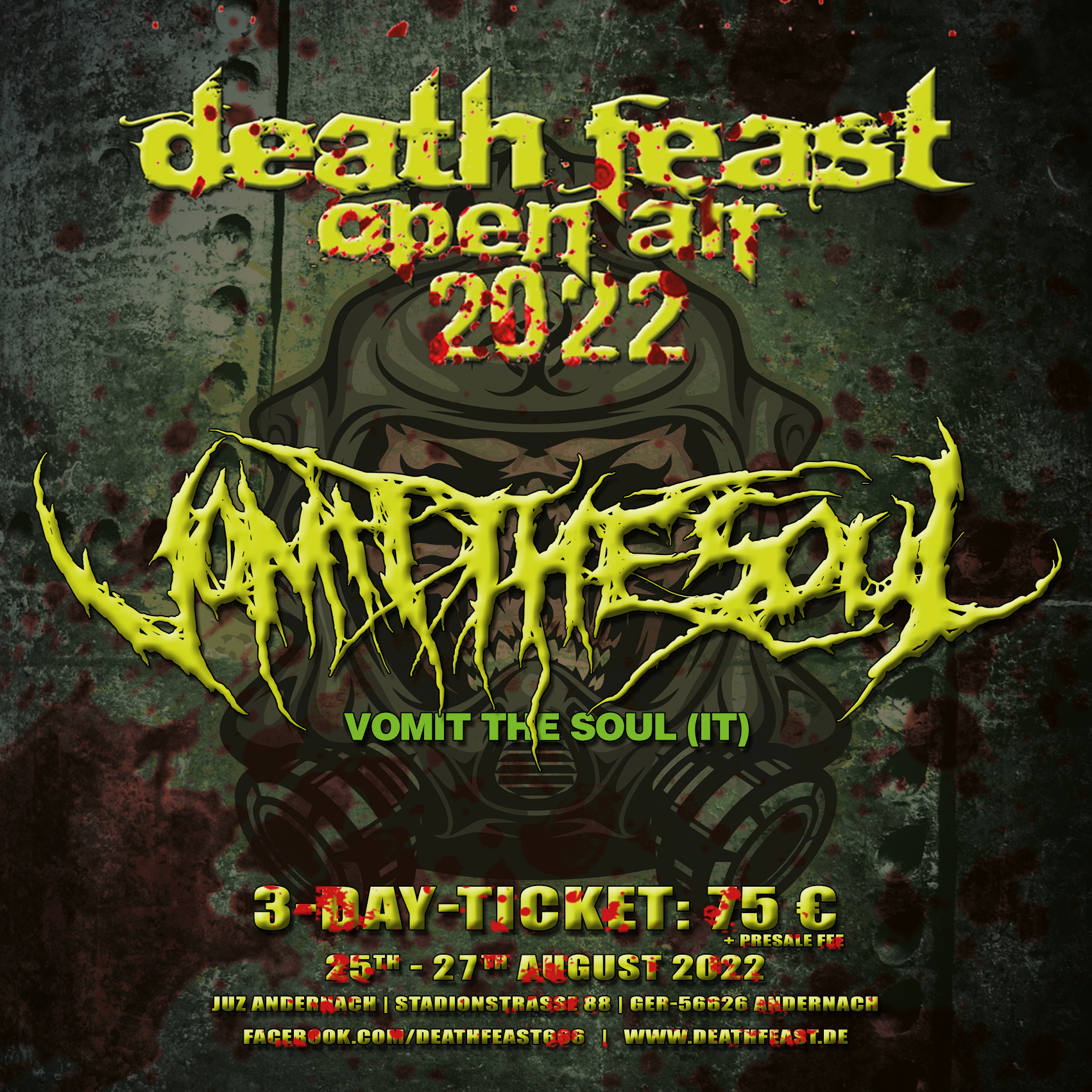 Vomit the Soul from Italy announced for the DFOA 2022
Vomit the Soul aus Italien kommen zum DFOA 2022
####
English version below
####
Nach und nach werden wir in den nächsten Wochen alle Bands des Deathfeast Open Air 2022 veröffentlichen.
Heute fangen wir mit einer Ikone an und wir haben uns sehr gefreut, als wir gesehen haben, dass die Band wieder aktiv ist. Vor fast 20 Jahren ein Pionier im Slam-Genre, hat die Band bis heute nichts von ihrer Brutalität und ihrem Groove verloren.
Wir freuen uns sehr, Vomit The Soul aus Italien auf unserer Bühne begrüßen zu dürfen. Lasst die Slams beginnen.
Lineup bis jetzt:
Suffocation / Rings of Saturn / Benighted / INGESTED / Decrepit Birth / Visceral Disgorge / Organectomy / Vomit the Soul / Stillbirth / GUTSLIT / Cumbeast / Tortharry / Bloodtruth / Bound To Prevail
Sichert euch eure Tickets, bevor sie weg sind:
https://www.deinetickets.de/shop/deathfeast20/de/start/nocookie/
##############################
Vomit the Soul from Italy announced for the DFOA 2022
Today we start with an icon and we were very happy when we saw that the band is active again. Almost 20 years ago a pioneer in the slam genre, the band still loses nothing of its brutality and groove.
We are very happy to welcome
Vomit The Soul
from Italy on our stage. Lets the slams begin.
Get your tickets before they are gone: