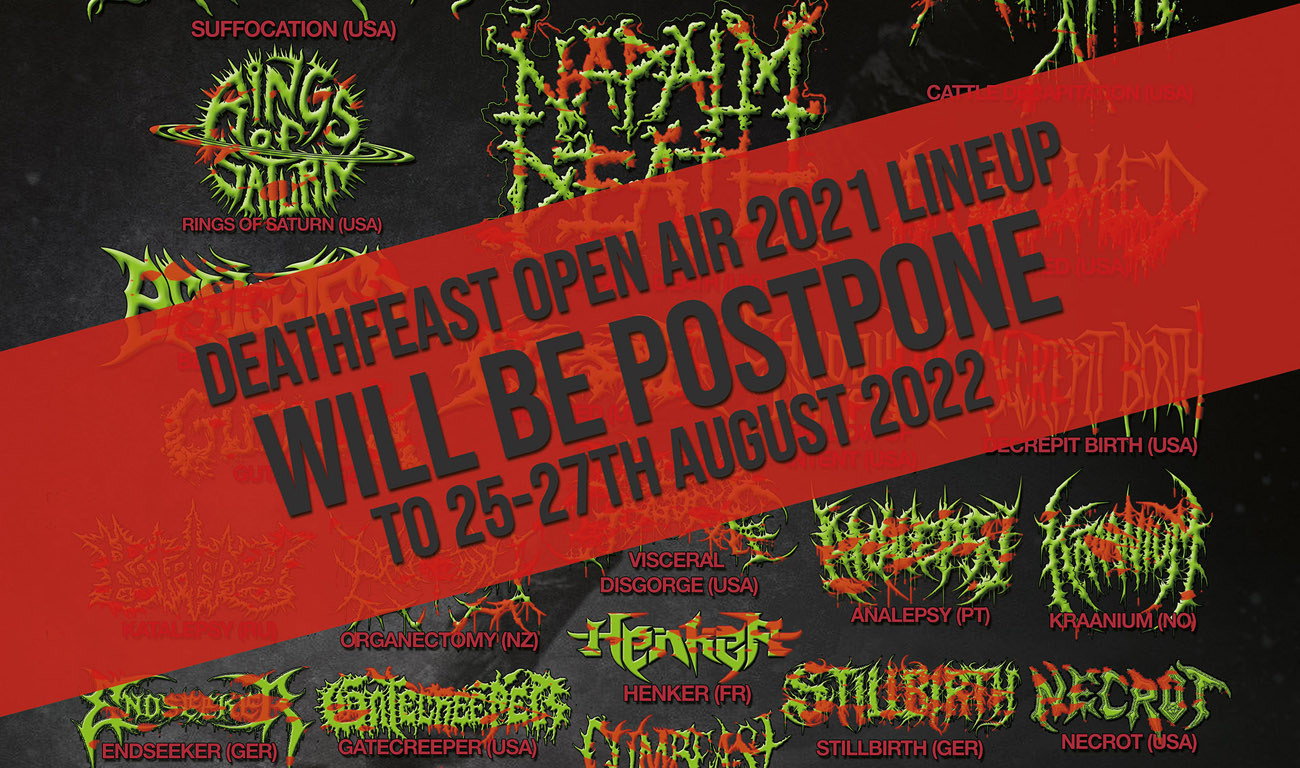 Deathfeast Open Air postponed to 2022
DEATHFEAST Open Air Andernach – Muss auf 2022 verschoben werden – Neuer Termin: 25. – 27. August 2022 – für dieses Jahr ist eine verkleinerte Ausgabe in Planung
####
English version below
####
Spätestens nach den Absagen von Wacken und Summer Breeze ist es keine Überraschung mehr: auch der Sommer 2021 ist für Großveranstaltungen im gewohnten Sinn nicht möglich. Aus dem Grund muss nun auch das DeathFeast Open Air mitsamt seinem aktuellen Billing auf 2022 umziehen. Das Deathfeast Open Air wird vom 25.-27. August 2022 wie gewohnt auf dem Gelände des JUZ Live Club Andernach stattfinden.
Die gute Nachricht dabei: Das Festival zieht wie geplant einfach 1:1 um ein Jahr um, nahezu mitsamt seinem bestehenden Line Up, und auch bereits gekaufte Tickets behalten ihre Gültigkeit für 2022!
Die aktuellen Auflagen machen es unmöglich, das Open Air wie geplant stattfinden zu lassen", so die Veranstalter. "Wir würden massive Einschränkungen auf dem Gelände und beim Camping haben und das möchten wir niemandem zumuten. Es wäre einfach nicht das Open Air-Erlebnis, auf das sich alle freuen.
ür das ursprüngliche Datum, 27. Und 28. August 2021 planen die Organisatoren derzeit allerdings eine Alternativ-Ausgabe des DeathFeast. Eine etwas verkleinerte Version unter aktuellen Auflagen, die nur zwei Tage insgesamt stattfindet und ohne Camping, sowie mit verringertem Line Up auskommen wird. Es wird separate Tickets geben die im Fall einer Absage auch wieder erstattet werden. Ob und wie das Festival umsetzbar ist liegt wie bei allen Veranstaltungen diesen Sommer an der aktuellen Pandemie-Entwicklung und den damit verbundenen tagesaktuellen Auflagen. News zu der kleineren Deathfeast Edition kommen am Sonntag den 27. Juni.
Notiert euch schonmal den 25.-27. August 2022 im Kalender. Dann darf man sich auf ein reguläres Deathfeast Open Air mit unter anderem Napalm Death, Suffocation, Ingested, Analepsy und vielen mehr freuen.
##############################
DEATHFEAST Open Air Andernach – will be postponed to 2022 – New date: 25th-27th August 2022 – smaller festival edition about to be planned for this year
After the cancellation of Wacken and Summer Breeze at the latest, it is no longer a surprise: major events in the usual sense are still not possible this summer. For this reason, the DeathFeast Open Air and its current billing must now move to 2022. It will now take place from 25th.-27th. August 2022 as usual on the grounds of the JUZ Live Club Andernach.
The good news: The festival is moving one by one year as planned, almost with the entire program, and tickets that have already been purchased remain valid!
"The current conditions make it impossible to let the open air take place as planned," the organizers say. "We would have to face massive restrictions on the site and especially at the camping grounds and we really don ´t want anyone to be faced with that. It just wouldn't be the open air experience that everyone is looking forward to. "
For the original date, August 27th and 28th 2021, the organizers are currently planning an alternative edition of DeathFeast. A slightly scaled-down version under current editions that only takes place for two days in total and will get along without camping and with a reduced line-up. As with all events this summer, whether and how this can be implemented depends on the current pandemic development and the associated daily requirements. There will be seperate tickets for this event which will be refunded when we have to cancell. News will follow on sunday the 27th June.
Festival fans can make a fixed note in the calendar for the period 25th-27.th August 2022. Then you can look forward to a regular open air with Napalm Death, Suffocation, Ingested, Analepsy and many more.